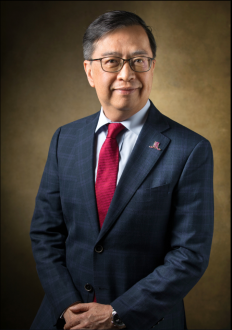 CHAN, K.L., Alan
Provost, J.S. Lee Professor of Chinese Culture
Brief Biography
Professor Alan Chan is currently the Provost and J.S. Lee Professor of Chinese Culture at The Chinese University of Hong Kong. Prior to joining CUHK, Professor Chan was Toh Puan Mahani Idris Daim Chair Professor of Humanities at the Nanyang Technological University (NTU) of Singapore. He joined NTU as Dean of the College of Humanities, Arts, and Social Sciences, and Professor of Philosophy in 2009. In January 2018, Professor Chan was appointed Vice President of NTU, responsible for alumni engagement, university advancement and international relations.
Professor Chan was born in Hong Kong and completed his secondary school education here. He then pursued his higher education in Canada. He received his BA from the University of Winnipeg, MA from the University of Manitoba, and PhD in religious studies from the University of Toronto. Professor Chan began his academic career as an assistant professor at the University of Manitoba. He then joined the National University of Singapore (NUS), where he held several leadership roles, including the Vice-Dean of the Faculty of Arts and Social Sciences, and Associate Provost (Undergraduate Education). While at NUS, Professor Chan twice received the Teaching Excellence Award.
Professor Chan has held visiting professorships and fellowships in North America, Asia and Greater China, through which he has developed a broad understanding of higher education in a global context. Professor Chan's relationship with CUHK began in 2005 when he was invited to visit the Research Institute for the Humanities for an academic term.
Professor Chan's research focuses on Chinese philosophy and religion, and hermeneutics and critical theory. He is a member of various international boards, including the Social Science Research Council of Singapore, the Governing Council of International Confucian Association, China, and the editorial boards of the Journal of Daoist Studies and Oxford Bibliographies in Chinese Studies. He has published widely and recently developed an online course on "Explorations in Confucian Philosophy," which has drawn over 10,000 learners on Coursera.
Research Interests
Chinese philosophy and religion
Hermeneutics and critical theory
Selected Publications
"Laozi" (2018) and "Neo-Taoism" (2019), Stanford Encyclopedia of Philosophy, edited by Edward Zalta (http://plato.stanford.edu)
"From Uncrowned King to the Sage of Profound Greatness: Confucius and the Analects in Early Medieval China," in Companion to Confucius, edited by Paul Goldin. London: Wiley-Blackwell, 2017, 249–267.
"The Art of Hearing and the Promise of Harmony in Confucian Self-Cultivation," in New Directions in Chinese Philosophy, edited by Chung-yi Cheng. Hong Kong: New Asia College, Chinese University of Hong Kong, 2014, 103-115.
"Embodying Nothingness and the Ideal of the Affectless Sage in Daoist Philosophy," in Nothingness in Asian Philosophy, edited by Jee-Loo Liu and Douglas Berger. London and New York: Routledge, 2014, 213-229.
"Daoism," in Oxford Bibliographies: Chinese Studies (http://www.oxfordbibliographies.com), 2013.
"Harmony as a Contested Metaphor and Conceptions of Rightness in Early Confucian Ethics," in How Should One Live? Comparing Ethics in Ancient China and Greco-Roman Antiquity, edited by R.A.H. King and Dennis Schilling. Berlin: De Gruyter, 2011, 37–62.
"Interpretations of Virtue in Early China," Journal of Chinese Philosophy 38.1 (2011): 158–174.
Philosophy and Religion in Early Medieval China (ed. with Y.K. Lo). Albany: State University of New York Press, 2010.
Interpretation and Literature in Early Medieval China (ed. with Y.K. Lo). Albany: State University of New York Press, 2010.
"Wuqing yu changkuang: lun Zhuangzi zhong 'qing' de liangzhong quanshi" 無情與猖狂: 論《莊子》中「情」的兩種詮釋 (Two views of emotions in the Zhuangzi), Zhongguo zhexue yu wenhua 中國哲學與文化 (Chinese Philosophy and Culture) 6 (2010): 243–258 (in Chinese).