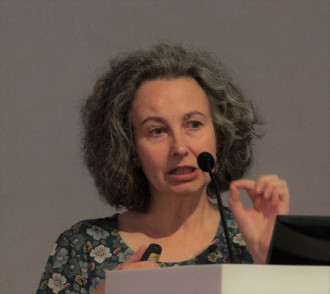 COLOMBETTI, Giovanna
Visiting Professor
Brief Biography
Professor Colombetti works primarily on emotion and affectivity, and the field of '4E cognition' (embodied, embedded, enactive and extended cognition). Since her PhD (Sussex, 2004) she has worked to reconceptualize various affective phenomena from a dynamical, embodied-enactive and, more recently, situated perspective. In both her teaching and research, she draws liberally from phenomenology, analytic philosophy, and theoretical and experimental work in psychology and neuroscience. More recently she has become interested in the contribution that material culture studies can make to understanding mind and affectivity as thoroughly situated.
Research Interests
Philosophy of mind: emotion and affectivity; consciousness; embodied and enactive approaches; the extended mind
Philosophy of cognitive science: theories and experimental work in affective science
Phenomenology of affectivity and the body
Aesthetics: the nature of aesthetic experience; philosophy of music
Mindfulness and meditative practices
Selected Publications
Ciampi G, Colombetti G (forthcoming). Enacting affectivity: the psychophysical training of śṛṅgāra in Gopal Venu's Navarasa Sādhanā. In Vial-Kaiser C (Ed) Art as Experience of the Living Body, Vernon Press.
Colombetti G, Kuppens P (forthcoming). How should we understand valence, arousal, and their relationship? In Scarantino A (Ed) Routledge Handbook of Emotion Theory, Routledge.
Steinert U, Colombetti G (forthcoming). Material affective engagements: examples from ancient Mesopotamia. Aestimatio: Sources and Studies in the History of Science
Colombetti G (2023). Varieties of incorporation: beyond the blind man's cane. In Geniusas S (Ed) Varieties of Self-Awareness, Springer.
Colombetti G (2020). Emoting the situated mind: a taxonomy of affective material scaffolds. JOLMA (2). 
Colombetti G, Zavala E (2019). Are emotional states based in the brain? A critique of affective brainocentrism from a physiological perspective. Biology and Philosophy, 34, 45-45. 
Rappert B, Colombetti G, Coopmans C (2017). What is absent from contemplative neuroscience? Rethinking limits within the study of consciousness, experience, and meditation. Journal of Consciousness Studies, 24(5-6), 199-255.
Colombetti G, Krueger J (2015). Scaffoldings of the affective mind. Philosophical Psychology, 28(8), 1157-1176. 
Colombetti G, Roberts T (2015). Extending the extended mind: the case for extended affectivity. Philosophical Studies: 172(5), 1243-1263. 
Colombetti G (2014). The Feeling Body: Affective Science Meets the Enactive Mind. Cambridge, MA, MIT Press.