Tang Chun-I Visiting Professorship Public Lecture: Xiong Shili and Zhu Xi on the Origin of Moral Badness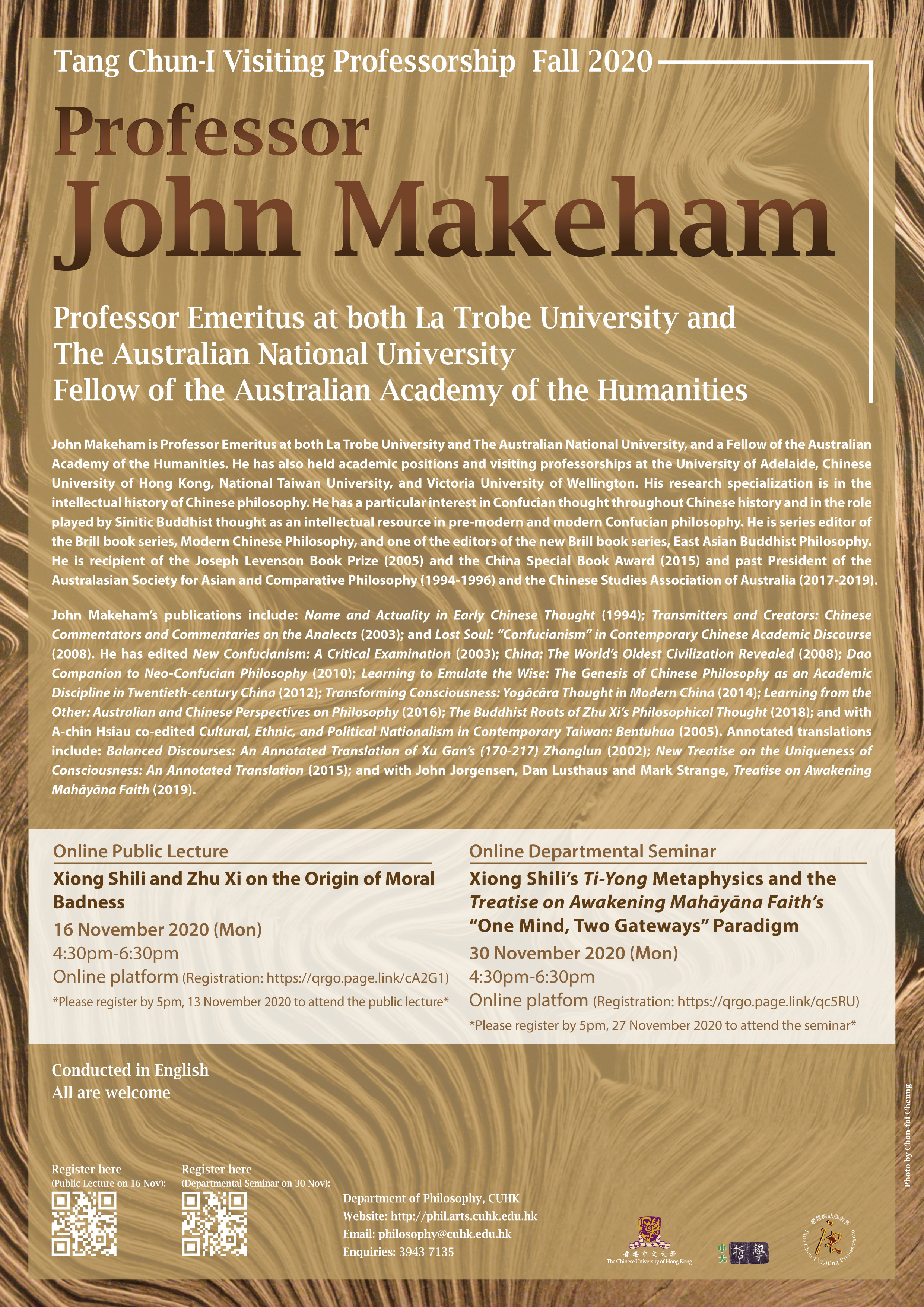 Professor John Makeham
Professor Emeritus at both La Trobe University and The Australian National University
Fellow of the Australian Academy of the Humanities

4:30 – 6:30 pm

Online platform
Please register by 5pm, 13 November 2020 to attend the public lecture.
Abstract:
Xiong Shili 熊十力 (1885–1968) is one of the most important Chinese philosophers of the twentieth-century and widely recognized as a founding figure of the modern "New Confucian" philosophy. Zhu Xi 朱熹 (1130–1200) is arguably the most important Chinese philosopher of the past millennium, both in terms of his influence and legacy and for the sophistication of the systematic "Neo-Confucian" philosophy he developed.
In this lecture I will compare Xiong Shili's and Zhu Xi's respective theoretical approaches to the problem of the origin of moral badness. The lecture focuses on Xiong's 1959 book, Ming xin pian 明心篇 (Explaining the Mind), in which he used the concepts of the nature (xing 性) and the mind (xin 心) to explain the origin of moral badness. I will argue that Xiong's and Zhu Xi's approaches to the problem are isomorphic. This isomorphism is significant because it suggests that Xiong consciously drew on Zhu Xi and the Buddhist models that Zhu in turn drew on, in particular those in the sixth century Buddhist text, the Treatise on Awakening Mahāyāna Faith (Dasheng qixin lun 大乘起信論). The final part of the lecture will argue that Xiong was not satisfied merely to adapt Zhu Xi's views but also sought to overcome some of their theoretical shortcomings.
Delivered in English
All are welcome