Call for Papers – Conference on The Philosophy of Mythology in the Continental Tradition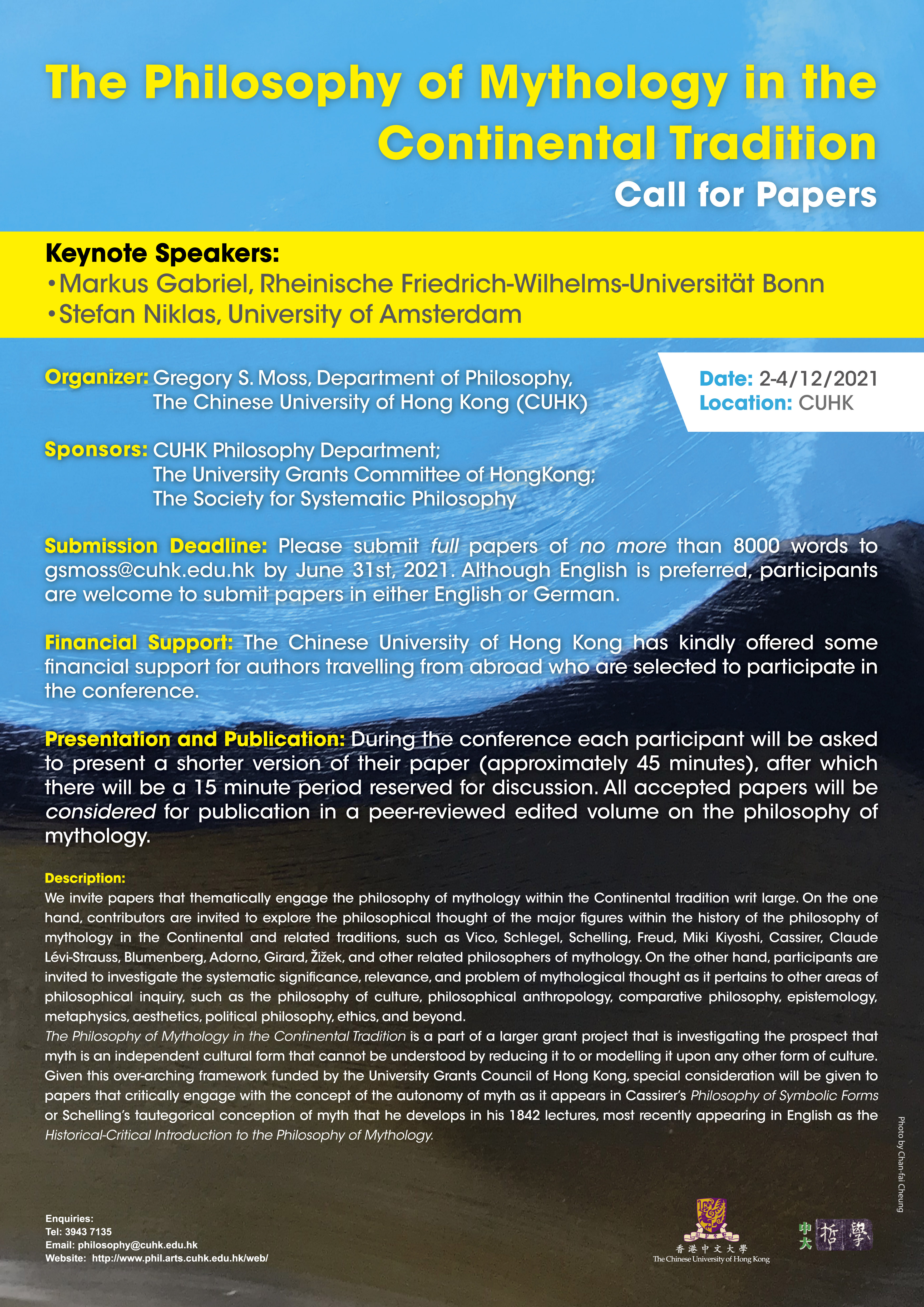 Date: 2 – 4 / 12 / 2021
Keynote Speakers:
Markus Gabriel, Rheinische Friedrich-Wilhelms-Universität Bonn
Stefan Niklas, University of Amsterdam
Location: CUHK
Organizer: Gregory S. Moss, Department of Philosophy, The Chinese University of Hong Kong (CUHK)
Sponsors: CUHK Philosophy Department; The University Grants Committee of Hong Kong; The Society for Systematic Philosophy  
Submission Deadline: Please submit full papers of no more than 8000 words to gsmoss@cuhk.edu.hk by June 30th, 2021. Although English is preferred, participants are welcome to submit papers in either English or German.  
Presentation and Publication: During the conference, participant will be asked to present a shorter version of their paper (approximately 45 minutes), after which there will be a 15 minute period reserved for discussion. All accepted papers will be considered for publication in a peer-reviewed edited volume on the philosophy of mythology.
Financial Support: The Chinese University of Hong Kong has kindly offered some financial support for authors travelling from abroad who are selected to participate in the conference.
Description:
        We invite papers that thematically engage the philosophy of mythology within the Continental tradition writ large. On the one hand, contributors are invited to explore the philosophical thought of the major figures within the history of the philosophy of mythology in the Continental and related traditions, such as Vico, Schlegel, Schelling, Freud, Miki Kiyoshi, Cassirer, Claude Lévi-Strauss, Blumenberg, Adorno, Girard, Žižek, and other related philosophers of mythology. On the other hand, participants are invited to investigate the systematic significance, relevance, and problem of mythological thought as it pertains to other areas of philosophical inquiry, such as the philosophy of culture, philosophical anthropology, comparative philosophy, epistemology, metaphysics, aesthetics, political philosophy, ethics, and beyond.
       The Philosophy of Mythology in the Continental Tradition is a part of a larger grant project that is investigating the prospect that myth is an independent cultural form that cannot be understood by reducing it to or modelling it upon any other form of culture. Given this over-arching framework funded by the University Grants Council of Hong Kong, special consideration will be given to papers that critically engage with the concept of the autonomy of myth as it appears in Cassirer's Philosophy of Symbolic Forms or Schelling's tautegorical conception of myth that he develops in his 1842 lectures, most recently appearing in English as the Historical-Critical Introduction to the Philosophy of Mythology.