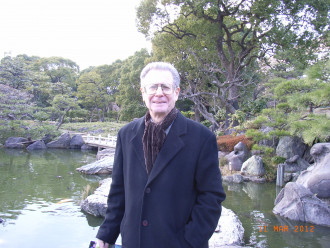 斯洛特教授
斯洛特教授
迈阿密大学UST伦理学讲座教授
斯洛特教授,哈佛大学学士、哲学博士,现任迈阿密大学UST伦理学讲座教授;皇家爱尔兰学院成员、前Tanner讲师;2013年在上海华东师范大学冯契智慧讲坛上发表演讲,并担任湖北大学荣誉教授至今。曾任教于哥伦比亚大学、都柏林圣三一学院(现为该校院士)、马里兰大学学院市分校(曾于该校担任系主任一职),2002年加入迈阿密大学。
斯洛特教授着述甚丰,其专着及论文大多以伦理学为题,近年更旁及知识论、形上学、语言哲学、心灵哲学。最近,他对西方哲学与中国哲学的关系产生兴趣,进而开展相关研究,探讨西方哲学如何可与中国哲学的「阴阳」、「心」、「道」、「气」、「太极」、「天地」、「和」等等观念融合,以丰富西方哲学的内涵。最新专论《阴阳哲学》将以中英对照形式由商务印书馆出版,2018年面世。
斯洛特教授是第二十五位唐君毅访问教授。他将以「东西方论情感」为题主持公开演讲;此外也会为本系主持教职员研讨会,题目是「最新中国哲学词汇:对『阴阳』、『气』、『太极』、『道』、『天地』、『和』之理解」。其整体立论是:「阴阳」不仅是「心」及其德性的基础,也是吾人理解自然、探索宇宙和谐的基石。
东西方论情感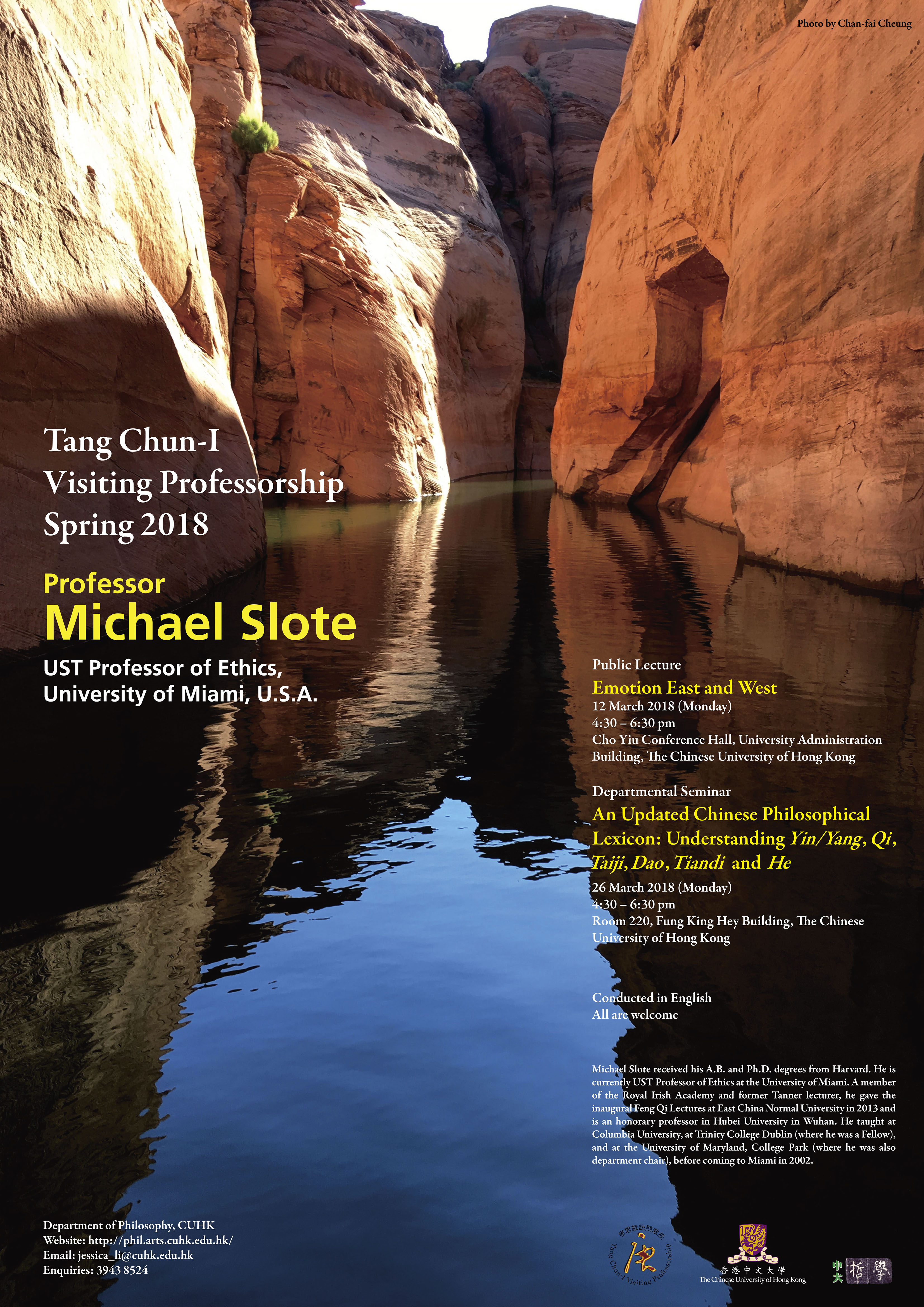 2018年3月12日 (星期一)
下午四时半至六时半
香港中文大学行政楼祖尧堂
摘要:
中国思想比西方思想更着重情感因素。西方语言讲 "mind" 或相对应的词汇,东亚语言如韩文、中文、日文则说「心」;前者假设思维活动无需情感,后者则无此假设。在这方面,东亚的思想其实更切合我们的心理,因为心智的认知能力涉及信念,而信念本身又必涉及情感。如果心理的正常运作需要情感,那么许多西方的伦理观念便错了。康德和一些较近期的理性主义者认为,道德知识以及建基于道德知识的动机无需情感即可产生。假若如我所言这种观念是错误的,那么道德理性主义便不再是一个伦理学选项。有趣的是,中国思想从来没有支持过任何(纯粹的)理性主义伦理学;在儒家思想的道德德性中,理性最多也只是与情感一起发挥作用。而且,在众多中国思想家中,至少有一位是纯粹的道德情感论者,那就是孟子。孟子的「四端」,作为情感反应,构成了道德德性的基础。在西方,休谟以及其他一些思想家对道德的基础也有类似的见解。因此,假如理性主义可以抛弃,那么,真正的问题就是:纯粹情感主义,或者某些情感和理性因素的结合,可否视为道德思考和道德德性的正当基础?本讲将简论纯粹情感主义,并集中探讨孟子/休谟的观点。
日期/时间:
3月2日 (星期五) 2:30 – 5:15 p.m.
3月9日 (星期五) 2:30 – 5:15 p.m.
3月14日 (星期三) 6:30 – 9:15 p.m.
3月23日 (星期五) 2:30 – 5:15 p.m.
课室:
香港中文大学李达三楼214室 (LSK 214)
The seminar will focus on ways the traditional Chinese ideas of yin and yang can be made relevant to contemporary philosophizing. I will give four different lectures illustrating this point and showing in particular how yin/yang can help us in epistemology, ethics, philosophy of mind, and metaphysics more generally. The students are not expected to do any reading in advance of or for the seminar, but their eventual papers, due in May, 2018, should represent some kind of following up on the ideas mentioned and discussed during the seminars. This could involve reading more Chinese classics, but also or independently could involve interaction with various aspects of present-day or recent Western philosophy. The students writing the papers are encouraged to engage critically with the content of the lectures and/or to further develop some of the themes of the lectures. Papers should be at least 5000 words in length.
最新中国哲学词汇:对『阴阳』、『气』、『太极』、『道』、『天地』、『和』之理解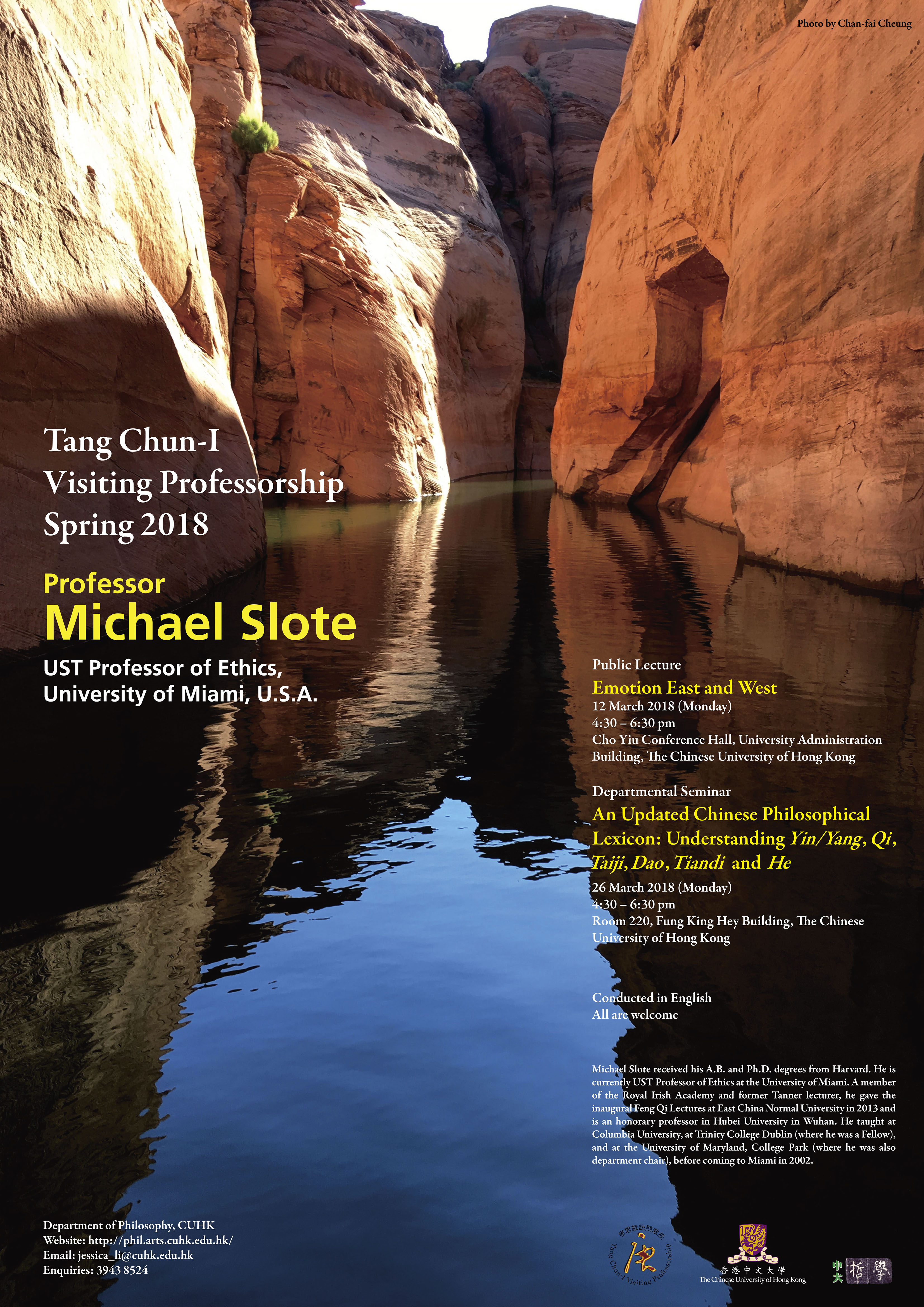 2018年3月26日 (星期一)
下午四时半至六时半
香港中文大学冯景禧楼220室
摘要:
Recent Chinese philosophy has to a large extent looked to Western philosophy for guidance, direction, and renewal, but this has involved a neglect of certain Chinese categories that can do a lot of important work for philosophers East and West. However, in order to be thus relevant the categories need to be updated or winnowed. For example, yin and yang are traditionally associated with physical concepts like wet and dry, cold and warm, and Chinese philosophers have, I think, rightly seen that such thinking is not going to be much help to present-day philosophy. But deep within traditional Chinese thinking, there is also a tendency to view yin as something like receptivity and yang as something like directed activity or purpose, and thus understood, yin and yang and yin/yang can, unexpectedly, help us better understand ethics, epistemology, and philosophy of mind.
In ethics, for example, a virtue like compassion or ren has both a yin and yang aspect: involving as it does both empathic receptivity to the suffering of another and motivation directed at helping the other. As with yin and yang, I shall argue that these two sides of compassion and other moral emotions are mutually dependent or complementary. In philosophy of mind, belief and desire are often seen as the main basic elements of psychological functioning, and it can be argued that both these components of the mind or heart-mind involve emotion. Belief is receptive or yin emotion and desire is actively directed yang emotion, and given these two complementary forms of emotion, it is natural to think that there is something more general that can be called emotionality and that can assume these different and complementary emotional forms. And emotionality can be equated with qi as it appears within the heart-mind.
Dao is a much honored and central notion in Chinese thought, but it doesn't as such mandate any specific qualities as virtues or any specific actions as morally incumbent on us. By contrast, I argue, yin/yang enables us to explain how and why compassion, etc., are virtues. It thus does more moral-theoretic work for us, but it is then possible to understand Dao in the light of the foundational emphasis on yin/yang. Dao may make no specific moral recommendations, but it does embody the idea that truly understanding the ultimate order of things necessitates a commitment to living in accordance with that order. This means that if we are really receptive to how things are we will act virtuously, and in the terms I defend, this also means that Dao can be understood as the basic idea that yin requires and calls for yang. There is also the idea that yang requires yin, and I believe this fundamental idea is embedded in the concept of Tiandi. The yang of Heavenly activity cannot occur without Earth's being receptive to that activity, for in the absence of Earth, Heaven has nothing to work on. So in the light of what I have to say about yin/yang we can give Dao and Tiandi philosophically justifiable places within contemporary philosophical thinking.
If time permits, I will extend my yin/yang analysis to the natural world outside mind or xin. If it applies there, then qi and taiji can be thought of as basic to the whole cosmos: both humans and nature—just the way Zho Dunyi thought. But my argument will depend on facts of modern physics Zho was of course unaware of. Newton's laws instantiate yin and yang, as do familiar laws in chemistry and biology. But then, if both nature and humans exemplify the same basic yin/yang, there is a harmony to the entire universe that Western philosophy has never dreamt of. Chinese thought has traditionally believed in such harmony or he, but it helps to use modern physics and certain Western-style arguments in order to show how and why this is the case. Chinese optimism about the universe and ourselves is to that extent vindicated against pessimistic Western dualism and epistemological skepticism.