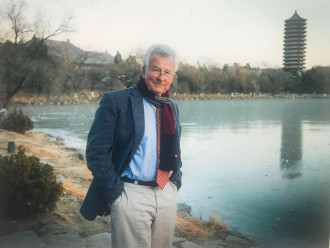 安乐哲教授
Professor Roger T. Ames
Humanities Chair Professor, Peking University
Professor Emeritus of Philosophy, the University of Hawai'i
Roger T. Ames is Humanities Chair Professor at Peking University, Co-Chair of the Academic Advisory Committee of the Peking University Berggruen Research Center, and Professor Emeritus of Philosophy at the University of Hawai'i. He is former editor of Philosophy East & West and founding editor of China Review International. Ames has authored several interpretative studies of Chinese philosophy and culture: Thinking Through Confucius (1987), Anticipating China (1995), Thinking from the Han (1998), and Democracy of the Dead (1999) (all with D.L. Hall), Confucian Role Ethics: A Vocabulary (2011), and most recently "Human Becomings: Theorizing 'Persons' for Confucian Role Ethics" (forthcoming). His publications also include translations of Chinese classics: Sun-tzu: The Art of Warfare (1993); Sun Pin: The Art of Warfare (1996) (with D.C. Lau); the Confucian Analects (1998) and the Classic of Family Reverence: The Xiaojing (2009) (both with H. Rosemont), Focusing the Familiar: The Zhongyong (2001), and The Daodejing (with D.L. Hall) (2003). Almost all of his publications are now available in Chinese translation, including his philosophical translations of Chinese canonical texts. He has most recently been engaged in compiling the new Sourcebook of Classical Confucian Philosophy, and in writing articles promoting a conversation between American pragmatism and Confucianism.
中国:寻找属于自己的现代性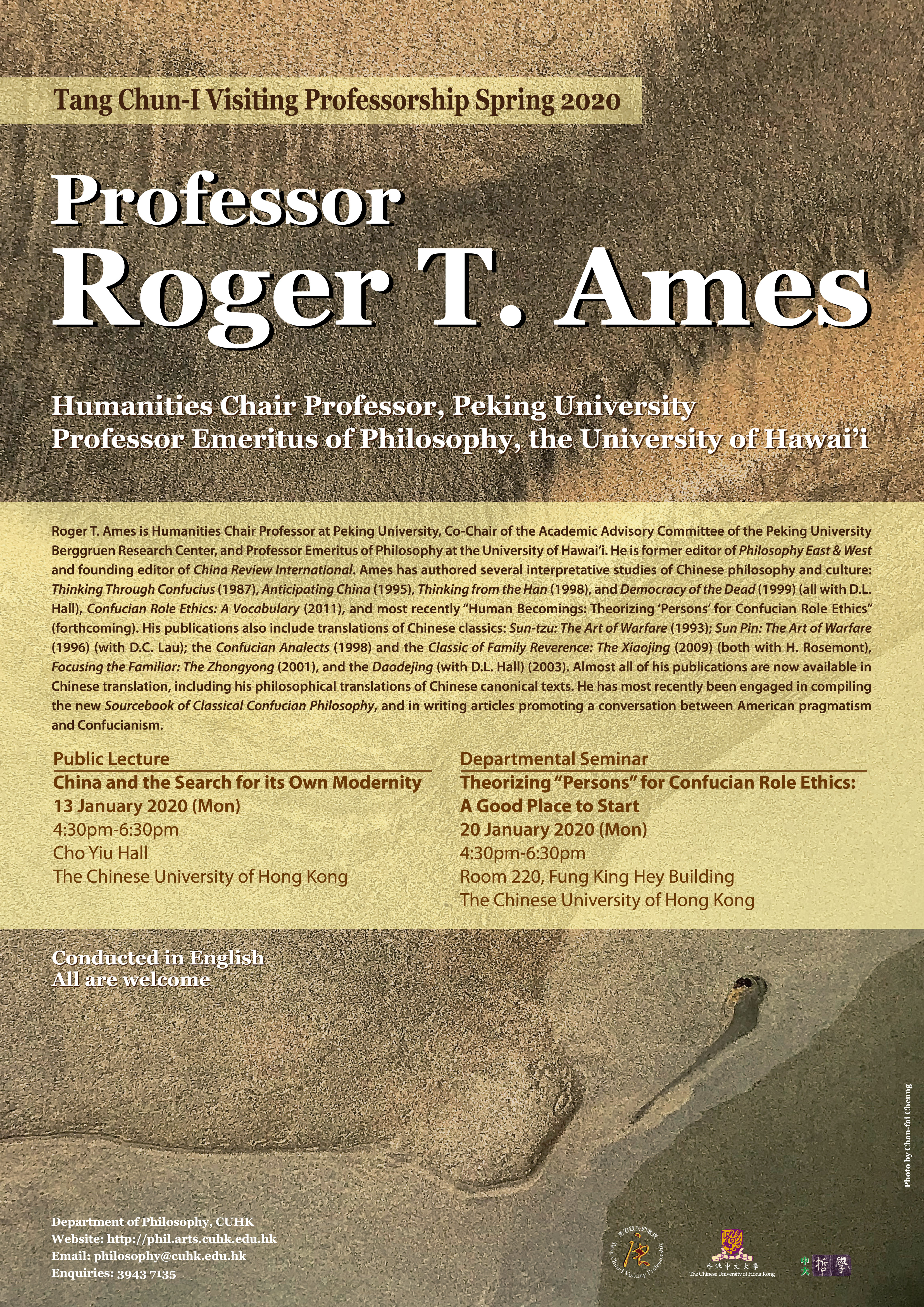 2020年1月23日 (星期一)
下午四时半至六时半
香港中文大学祖尧堂
摘要:
中国到了现在──21世纪过了差不多二十年──才刚起步构筑属于自己现代性。自19世纪下半叶,中国和其他仰慕西方现代性的东亚文化,开始建构一套新的概念语言,冀把西方传统融入本土文化,以一套外来的现代性语言,启发本土的发展。西方的教育制度和课程,就是在这样的背景下,全盘引进东亚的学院;亚洲学者,固然因此而接触到产生新知识的工具和方法,但也牺牲了自己的身分。这种影响,延续至今,因为东亚传统的概念化、理论化,仍然是以一套西方现代性的语言去操作,在外国如是,在本土学院也如是。
要进一步理解属于中国自身的现代性,方法之一,就是反思在汉语翻译的过程中,如何通过调整而把翻译「本土化」(套用施莱尔马赫的讲法)。譬如说,用以翻译"universal" 一词的「普遍」,在用法上,意思是「遍布各处的、常见的、普通的、共同的」;「超越」,作为 "transcendence" 的中译,意指「一个内在体的外围限度」,而非严格哲学意义上的 "transcendence":一个外在的、独立的、普遍的、自足的标准。
或许,最有趣的现象就是:在当代西方论述里,随着「超越普遍性」备受质疑,语言的发展,正在往「取代超越普遍性」的方向进行;这个过程与儒家思想的论述,正好不谋而合。
Theorizing "Persons" for Confucian Role Ethics: A Good Place to Start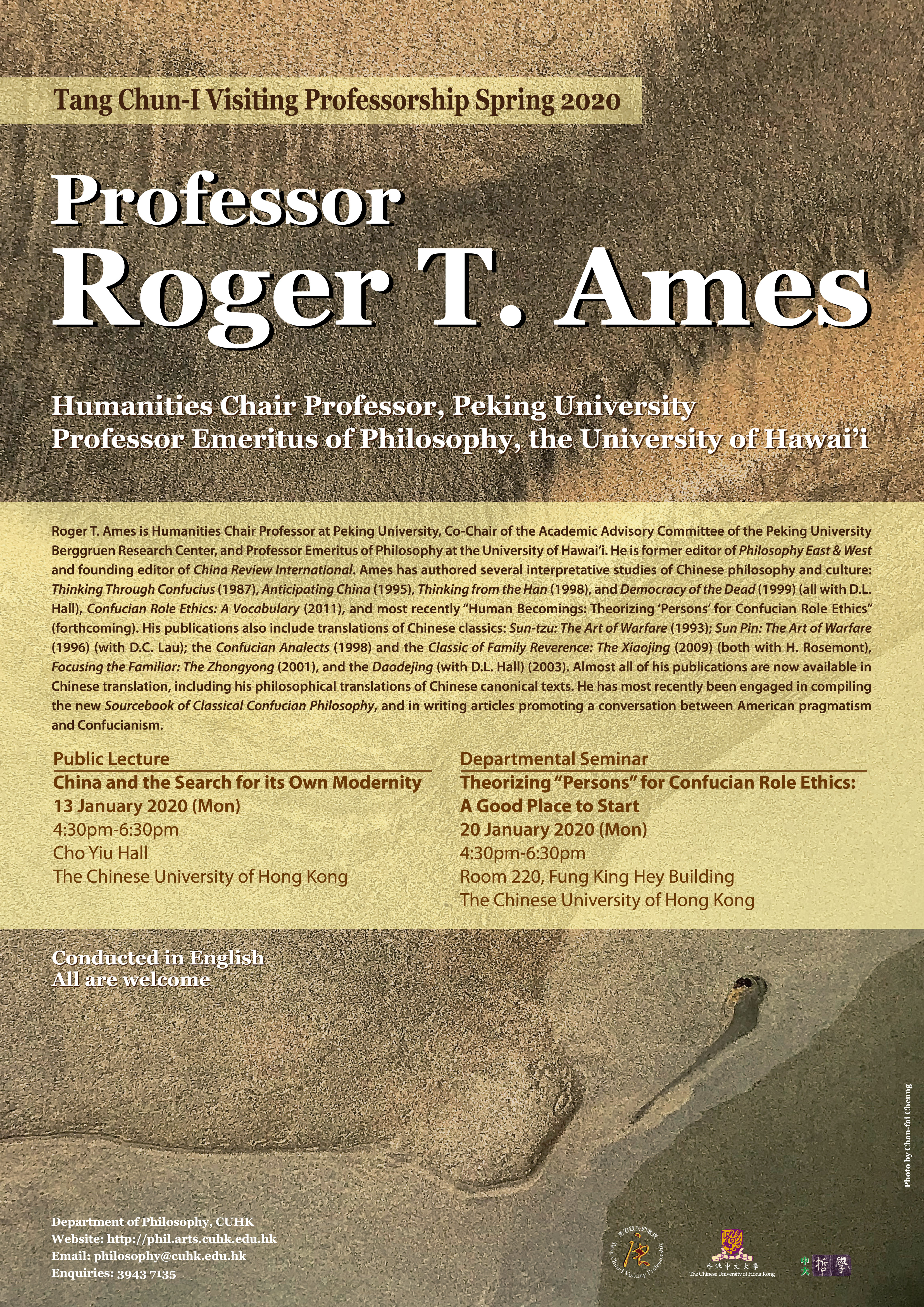 2020年1月20日 (星期一)
下午四时半至六时半
香港中文大学冯景禧楼220室
摘要:
In 2011, I published Confucian Role Ethics: A Vocabulary in which I argue that Confucian philosophy's encounter with Western ethical theory is not its defining moment. Indeed, I try to use the Confucian ethical vocabulary to express its own sui generis vision of the moral life as Confucian role ethics. On reflection, I am not sure that I have been able to convey in sufficiently clear terms the Confucian conception of a relationally-constituted person. At the same time, I am persuaded that this is one of the most important contributions Confucian philosophy has to make to our contemporary ethical, social, and political discourse as a robust alternative to single actors playing to win.
G.W.F. Hegel in the introduction to his Encyclopaedia Logic famously observes that one of the most difficult problems in any philosophical investigation is the question of where to begin. In this lecture, I will argue that the appropriateness of categorizing Confucian ethics as role ethics turns largely on the conception of person that is presupposed within the interpretive context of classical Chinese philosophy. If our goal is to take the Confucian tradition on its own terms and to let it speak with its own voice without overwriting it with our own cultural importances, we must begin by first self-consciously and critically theorizing the Confucian conception of person as the starting point of Confucian ethics.
The problem of using Western categories—today, virtue ethics—to theorize Confucian philosophy is an old and persistent story. In our own time, but with deep roots in the classical Greek philosophical narrative, individualism has become a default, commonsense assumption, if not an ideology. I will argue that the vocabulary of agents, acts, generic virtues, character traits, autonomy, motivation, reasons, choice, freedom, principles, consequences, and so on, introduces distinctions that assume this foundational individualism as its starting point.
And further, I will claim that Confucian ethics by contrast begins from the wholeness of experience, and is formulated by invoking a radically different focus-field cluster of terms and distinctions with fundamentally different assumptions about how personal identities emerge in our human narratives, and how moral competence is expressed as an achieved virtuosity in the roles and relationships that come to constitute us. To fail to distinguish what I will call individual human "beings" from relationally-constituted "human becomings," then, would mean that we have willy-nilly insinuated a contemporary and decidedly foreign notion of person into our investigation before it has even begun.