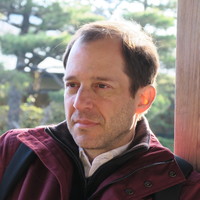 CHAI, David
Associate Professor
Brief Biography
Professor Chai's principal area of research is Ancient and Medieval Chinese Philosophy, with an emphasis on Daoism. Secondary areas of research include Aesthetics, Metaphysics, Phenomenology, Hermeneutics, Comparative Philosophy, and Philosophy of Religion.
Research Interests
Ancient and Medieval Chinese Philosophy
Aesthetics
Metaphysics
Phenomenology
Hermeneutics
Comparative Philosophy
Philosophy of Religion
Selected Publications
Recent Books:
Daoist Resonances in Heidegger: Exploring a Forgotten Debt. London: Bloomsbury, (forthcoming, 2022).
Reading Ji Kang's Essays: Xuanxue in Early-Medieval China. London: Routledge, 2022.
Daoist Encounters with Phenomenology: Thinking Interculturally about Human Existence. London: Bloomsbury, 2020.
Dao Companion to Xuanxue [Neo-Daoism]. Cham: Springer, 2020.
Zhuangzi and the Becoming of Nothingness. Albany: SUNY Press, 2019.
Recent Papers:
Guo Xi on Painting the Invisible Gaze of Dao, 2021.
The Temporal Life of Fish: Zhuangzi on Perfection in Time, 2021.
Ji Kang's Essay on Dispelling Self-Interest, 2020.
Ruan Ji's Essay on Comprehending the Zhuangzi, 2020.
Daoism and Hegel on Painting the Invisible Spirit: To Color or Not?, 2020.
Paul Tillich, Zhuangzi, and the Creational Role of non-Being, 2019.
Daoism and the Meontological Imagination,  2019.
Nothingness and Selfhood in the Zhuangzi, 2019.