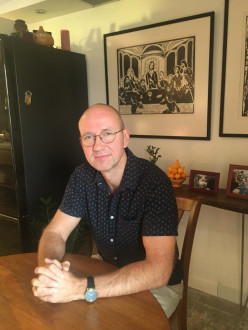 GENIUSAS, Saulius
Professor
Brief Biography
I received my B.A. in Philosophy at Vilnius University (Lithuania), my M.A. in Philosophy at McMaster University (Canada), and my PhD in Philosophy at the New School for Social Research (USA). Since 2008, I worked as an Assistant Professor of Philosophy at James Madison University (USA) before I joined the Department of Philosophy at the Chinese University of Hong Kong in 2012.
My main philosophical interests lie in 19th and 20th century Continental philosophy, especially in phenomenology and hermeneutics. Over the last few years, my research was especially focused on phenomenology of pain and phenomenology of imagination. I have published widely in the field.
I am the recipient of the 2020-21 Research Excellence Award at CUHK. My book, The Phenomenology of Pain, was selected as the winner of the 2021 Edward G. Ballard Prize, awarded by the Center for Advanced Research in Phenomenology for an outstanding book in phenomenology.  I have also been awarded numerous research fellowships and grants, including the Humboldt Research Fellowship for Experienced Researchers and the DAAD Research Grant. On three separate occasions, I was also awarded the General Research Fund (GRF) grant.
I am one of the editors of the Social Imaginaries book-series (Rowman & Littlefield), and an associate editor of the International Journal of Social Imaginaries (Brill Publishers)
Besides regularly offering courses in the history of philosophy, both ancient and modern, and in 19th and 20th century continental philosophy, I also offer lectures and seminars in aesthetics, phenomenology, hermeneutics and philosophy of imagination. I am also the recipient of the 2012-13 and 2017-18 Faculty Exemplary Teaching Award.
Research Interests
Phenomenology (esp. Husserl and Heidegger)
Hermeneutics (esp. Gadamer and Ricoeur)
19th century philosophy (esp. Hegel and Nietzsche)
Philosophy of Pain
Philosophy of Imagination
Selected Publications
Books
Geniusas, S. 2022. Phenomenology of Productive Imagination: Embodiment, Language, Subjectivity. Hanover: Ibidem Press (Body and Consciousness Series), forthcoming.
Geniusas, S. 2021. Kas yra skausmas? Deskriptyvi psichologija, transcendentalinė fenomenologija ir natūralizmas (What is Pain? Descriptive Psychology, Transcendental Phenomenology and Naturalism, in Lithuanian). Vilnius: Phi knygos.
Geniusas, S. 2020. The Phenomenology of Pain. Athens, OH: Ohio University Press (Series in Continental Thought, No. 53).
Geniusas, S. 2012. The Origins of the Horizon in Husserl's Phenomenology. Dordrecht/New York: Springer (Contributions to Phenomenology, Vol. 67).
Articles
Geniusas, S. 2021.  "Conscious and Unconscious Phantasy and the Phenomenology of Dreams." Research in Phenomenology 51(2): 178-199.
Geniusas, S. 2020. "Towards a Phenomenology of the Unconscious: Husserl and Fink on Versunkenheit."  Journal of the British Society for Phenomenology (Published online).
Geniusas, S. 2020. "'Multiple Realities' Revisited: James and Schutz." Human Studies 43(4): 545-565.
Geniusas, S. 2016. "Against the Sartrean Background: Ricoeur's Lectures on Imagination." Research in Phenomenology, 46/1, 98-116.
Geniusas, S. 2015. "Max Scheler and the Stratification of the Emotional Life." The New Yearbook for Phenomenology and Phenomenological Philosophy, Vol. XIV: 355-377.
Geniusas, S. 2015. "Between Phenomenology and Hermeneutics: Paul Ricoeur's Philosophy of Imagination." Human Studies, 38(2): 223-241.
Geniusas, S. 2014. "The Subject of Pain: Husserl's Discovery of the Lived-Body." Research in Phenomenology, 44(3): 384-404.
Geniusas, S. 2014. "The Origins of the Phenomenology of Pain: Brentano, Stumpf and Husserl." Continental Philosophy Review, 47(1): 1-17.