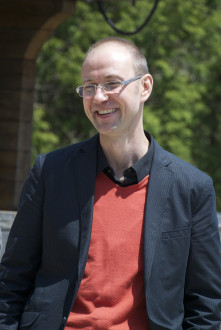 GENIUSAS, Saulius
Associate Professor
| | |
| --- | --- |
| | BA (Vilnius University); MA (McMaster University); PhD (The New School for Social Research) |
| Rm | 432 |
| | 39437147 |
| | geniusas@cuhk.edu.hk |
Brief Biography
Saulius Geniusas received his B.A. in Philosophy at Vilnius University (Lithuania), his M.A. in Philosophy at McMaster University (Canada), and his PhD in Philosophy at the New School for Social Research (USA). Since 2008 Geniusas worked as an Assistant Professor of Philosophy at James Madison University (USA), before he joined the Department of Philosophy at the Chinese University of Hong Kong in 2012.
Geniusas's main philosophical interests lie in 19th and 20th century continental philosophy, especially in phenomenology and hermeneutics. His dissertation, which he defended at the New School in 2008 and which was awarded the Hans Jonas Prize, addressed the concept of the horizon in Husserl's phenomenology. His monograph, The Origins of the Horizon in Husserl's Phenomenology, was published as Vol. 67 in the Contributions to Phenomenology series by Springer in 2012. Geniusas has also published forty plus articles in a number of philosophy journals and anthologies. His publications generally fall under the heading of modern European philosophy. Over the last few years, phenomenology of pain and phenomenology of imagination constitute his main research interests.
Besides regularly offering courses in the history of philosophy and in 19th and 20th century continental philosophy, Geniusas also offers lectures and seminars in aesthetics, phenomenology,  and philosophy of imagination.
Research Interests
Phenomenology (esp. Husserl and Heidegger)
Hermeneutics (esp. Gadamer and Ricoeur)
19th century philosophy (esp. Hegel and Nietzsche)
Philosophy of Pain
Philosophy of Imagination
Selected Publications
"Pain and Intentionality," in R. Walton, S. Taguchi and R. Rubio (eds.), Perception, Affectivity and Volition in Husserl's Phenomenology. Dordrecht/New York: Springer (Phenomenologica, Vol. 222), 2017.
"Phenomenology of Chronic Pain: De-Personalization and Re-Personalization," in Simon van Rysewyk (ed.), Meanings of Pain. Dordrecht/New York: Springer, 147-166, 2017.
"Vasily Sesemann's Phenomenological Aesthetics." Dialogue and Universalism, 26/3: 125-138, 2016.
"Max Scheler's Phenomenology of Pain." Frontiers of Philosophy in China, 11/3: 358-376, 2016.
"Against the Sartrean Background: Ricoeur's Lectures on Imagination." Research in Phenomenology, 46/1: 98-116, 2016.
"Between Phenomenology and Hermeneutics: Paul Ricoeur's Philosophy of Imagination." Human Studies, 38/2: 223–241, 2015.
"Max Scheler and the Stratification of the Emotional Life." The New Yearbook for Phenomenology and Phenomenological Philosophy, Vol. XIV: 355-377, 2015.
"Phänomenologie des chronischen Schmerzes und ihre Auswirkungen auf die Medizin," in G. Maio, C. Bozzaro, and T. Eichinger (eds.), Leid und Schmerz: Konzeptionelle Annäherungen und medizinethische Implikationen. Freiburg: Verlag Karl Alber, 180-202, 2015.
"The Spectacles of Pain and Their Contemporary Forms of Representation." Janus Head, 14/2: 87–112, 2015.
"The Pathos of Time: Chronic Pain and Temporality." Dialogue and Universalism, No. 3: 25–39, 2015.
"The Subject of Pain: Husserl's Discovery of the Lived-Body." Research in Phenomenology, 44/3: 384–404, 2014.
"The Origins of the Phenomenology of Pain: Brentano, Stumpf and Husserl." Continental Philosophy Review, 47/1: 1-17, 2014.
"William James y Edmund Husserl. Sobre la horizonticidad de la experiencia" (Trans. into Spanish by Pedro Agustín Medei). Escritos de Filosofía, No. 2: 93–118, 2014.
"On Nietzsche's Genealogy and Husserl's Genetic Phenomenology: The Case of Suffering," in C. Daigle and E. Boublil (eds.), Nietzsche and Phenomenology, Bloomington: Indiana University Press, 44–60, 2013.
"The Question of Ethics in Heidegger's Being and Time". In Existential Philosophy and Ethics ed. by H. Feger and M. Hackel, Berlin: Walter de Gruyter, 313–328, 2013.
"On Naturalism in Pain Research: A Phenomenological Critique". Metodo: International Studies in Phenomenology and Philosophy, 1,/1: 1–10, 2013.
"Indexicality as a Phenomenological Problem". Symposium: Canadian Journal of Continental Philosophy, 16/2: 271–290, 2012.
"The Problem of Signs in Heidegger's Being and Time". Paradigmi: Rivista di critica filosofica, XXX/2: 115–130, 2012.
The Origins of the Horizon in Husserl's Phenomenology. Dordrecht/New York: Springer (Contributions to Phenomenology, Vol. 67), 2012.
"The Post-War Reception of Ideen I and Reflection," in L. Embree and T. Nenon (eds.), Husserl's Ideen. Dordrecht/New York: Springer, 399–414, 2012.