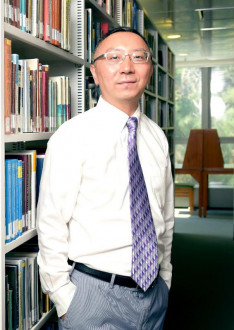 ZHONG, Lei
Professor
| | |
| --- | --- |
| | B.Econ. (RUC); M.Phil. (Peking); Ph.D. (Michigan) |
| Rm | 425, Fung King Hey Building |
| | 39437156 |
| | leizhong@cuhk.edu.hk |
Brief Biography
I obtained a Ph.D. in Philosophy from the University of Michigan, Ann Arbor in 2010. After teaching at Peking University and Lingnan University, I joined the Chinese University of Hong Kong in 2014. I mainly work in philosophy of mind, moral philosophy, and metaphysics, striving to develop a robust version of anti-reductionism about mentality and morality. I have also written in epistemology (explanation; intuition), political philosophy (liberalism; distributive justice), and comparative philosophy (Confucianism). I am currently working on a five-year project, "An Emergentist Theory of Mind", supported by the RGC Research Fellow Scheme of Hong Kong Research Grants Council.
As a leading Chinese analytic philosopher, my work has regularly appeared in top philosophy journals and stimulated worldwide responses and discussion. My research is listed in the key works of the "Exclusion Problem" entry in the PhilPapers index, and also acknowledged in major reference resources (such as Oxford Bibliographies in Philosophy, Stanford Encyclopedia of Philosophy, and Internet Encyclopedia of Philosophy). Two conferences discussing my philosophical theories were organized in Beijing and Shanghai, respectively. Some of my works have been translated into Chinese by other scholars. I have received the RGC Research Fellow Award in 2021 and the Research Excellence Award of CUHK in 2020.
I always aim to address relatively "big" philosophical issues, putting an equal emphasis on the roles of analysis and synthesis. My work has attempted to reveal the connections among apparently different topics at a deeper level and in a broader context. I have been consciously adopting the methodology of what John Rawls calls "reflective equilibrium", the goal of which is to achieve an acceptable coherence between particular judgments and general principles.
When not doing philosophy, I have a special interest in reading Classical Chinese poetry. I also enjoy watching English movie and TV series, playing table tennis, and exploring different parts of the world.
[More information can be found in my Curriculum Vitae.]
Research Interests
Philosophy of Mind
Moral Philosophy
Metaphysics
Epistemology
Political Philosophy
Comparative Philosophy
Selected Publications
Zhong, Lei (forthcoming) "Phenomenal Concepts, Direct Reference, and the Problem of Double Aspect," The Philosophical Quarterly.
Zhong, Lei (2022) "Why Causation Is Biconditional But Not Proportional," American Philosophical Quarterly 59(7): 263-271.
Zhong, Lei (2021) "Physicalism without Supervenience," Philosophical Studies 178(5): 1529-1544.
Zhong, Lei (2020) "Intervention, Fixation, and Supervenient Causation," Journal of Philosophy 117(6): 293-314.
Zhong, Lei (2020) "Taking Emergentism Seriously," Australasian Journal of Philosophy 98(1): 31-46.
Zhong, Lei (2019) "The Hard Problem for Soft Moral Realism," Journal of Philosophy 116(10): 555-576.
Zhong, Lei (2017) "Semantic Normativity and Semantic Causality," Philosophy and Phenomenological Research 94(3): 626-645.
Zhong, Lei (2016) "Physicalism, Psychism, and Phenomenalism," Journal of Philosophy 113(11): 572-590.
Zhong, Lei (2014) "Sophisticated Exclusion and Sophisticated Causation," Journal of Philosophy 111(7): 341-360.
Zhong, Lei (2012) "Counterfactuals, Regularity and the Autonomy Approach," Analysis 72(1): 75-85.
Zhong, Lei (2011) "Can Counterfactuals Solve the Exclusion Problem?" Philosophy and Phenomenological Research 83(1): 129-147.
[A complete list of publications can be found in my Curriculum Vitae.]