Conference: Philosophy of Criminal Punishment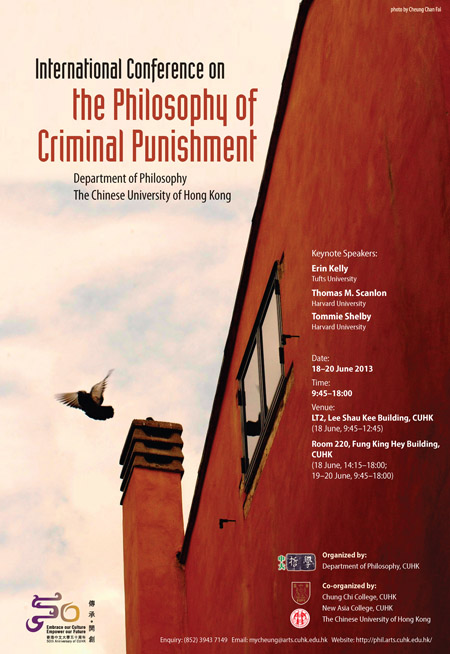 International Conference on the Philosophy of Criminal Punishment
June 18–20, 2013
Keynote speakers: Erin Kelly, Thomas M. Scanlon, Tommie Shelby


The International Conference on the Philosophy of Criminal Punishment was held on campus from June 18 to 20. It was organised by the Department of Philosophy, and co-organised by Chung Chi College, New Asia College and CUHK.
Fourteen papers were presented on three themes: (1) Why Punish? How Much? (2) Punishment and Social Justice, and (3) Should the Death Penalty be Abolished or Implemented?
Professors Erin Kelly, T. M. Scanlon, and Tommie Shelby delivered keynote addresses.
Professor Kelly teaches at Tufts University, and specializes in moral and political philosophy, and in philosophy of law, with an emphasis on justice. She has authored numerous publications. Her important paper, "Criminal Justice Without Retribution," appeared in The Journal of Philosophy (2009).
Professor Scanlon is Alford Professor of Natural Religion, Moral Philosophy, and Civil Polity at Harvard University. His publications include What We Owe to Each Other (Harvard, 1998), Moral Dimensions (Harvard, 2008), and other very influential works. His theory of contractualism has captured the imagination of the world's moral philosophers. He is one of the three or four most highly regarded Anglo-American philosophers in the world today.
Professor Shelby is Professor of African and African American Studies and of Philosophy at Harvard University. His important paper, "Justice, Deviance, and the Dark Ghetto," appeared in Philosophy & Public Affairs (2007). He is the author of We Who Are Dark: The Philosophical Foundations of Black Solidarity (Harvard, 2005).
Venue:
LT2, Lee Shau Kee Building, CUHK (June 18 morning)
Room 220, Fung King Hey Building, CUHK (June 18 afternoon – June 20)
Programme : PDF
Event photos can be found here
Abstracts: (all in PDF)
T.M. Scanlon: Desert, Blame, and Punishment
Erin Kelly: Culpability and Fault in Criminal Justice
Tommie Shelby: Punishment, Condemnation, and Social Injustice

Leora Katz: Mediating Desert and Punishment
David Goldman: Can Retributive Punishment Change the Past?
Jonathan Jacobs: Agency, Character, and Criminal Sanction: Implications of their Interaction
Andy Engen: Communication, Expression, and the Justification of Punishment
George Tsai: Blame: A Necessary Vice?
Tine Vandendriessche: Explaining Punishment: Moral Indignation, Meaning and Symbolic Practice
Hon-Lam Li: Two Dimensions of Criminal Punishment: Deterrence and Desert
Christopher Lewis: Inequality, Incentives, Blameworthiness, and Crime
Peter Chau: Moral Education and Criminal Punishment
J. Angelo Corlett: Taking Capital Punishment Seriously
Hannah Wensan Chen: On the Ethical Justification of the Abolishment of Death Penalty: From the Restorative Moral Imagination Approach