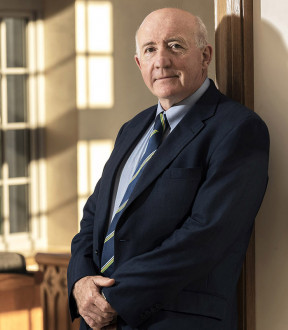 Dermot Moran
Professor Dermot Moran
Joseph Chair in Catholic Philosophy, Boston College, USA
Dermot Moran PhD, DLitt, MRIA is the Inaugural Holder of the Joseph Chair in Catholic Philosophy at Boston College, USA. He was previously Professor of Philosophy (Metaphysics & Logic) at University College Dublin. He has held numerous Visiting Professorships, including: Yale University, Northwestern University, Rice University, Connecticut College, the Chinese University of Hong Kong, Wuhan University, and the Gadamer Chair at Boston College (2015). He is an elected Member of the Royal Irish Academy and the Institut International de Philosophie (IIP). He was awarded the Royal Irish Academy Gold Medal in the Humanities in 2012. He is currently Past President (2018-2023) of the International Federation of Philosophical Societies (FISP). He was President of FISP (2013-2018) and President of the 24th World Congress of Philosophy, Beijing, 13-20 August 2018. He was awarded an Honorary Doctorate from the University of Athens, Greece, in 2015. Dermot Moran's publications include: The Philosophy of John Scottus Eriugena (1989), Introduction to Phenomenology (2000), The Phenomenology Reader (2002), Edmund Husserl: Founder of Phenomenology (2005), The Husserl Dictionary (2012), Husserl's Crisis of the European Sciences and Transcendental Phenomenology (2012). He has edited Husserl's Logical Investigations, 2 vols. (Routledge, 2001), The Shorter Logical Investigations, The Phenomenology Reader, co-edited with Tim Mooney (Routledge, 2002), Phenomenology. Critical Concepts in Philosophy, 5 vols., co-edited with Lester E. Embree (Routledge, 2004), The Routledge Companion to Twentieth Century Philosophy (Routledge, 2008); co-edited with Rasmus Thybo Jensen, The Phenomenology of Embodied Subjectivity (Springer 2014); co-edited with Elisa Magrì, Empathy, Sociality, and Personhood. Essays on Edith Stein's Phenomenological Investigations. Contributions to Phenomenology Series Vol. 94. (Springer, 2017); and, co-edited with Marta Jorba, Conscious Thinking and Cognitive Phenomenology (Routledge, 2018).
A Western Philosopher of Nothingness: Johannes Scottus Eriugena (800-877 CE)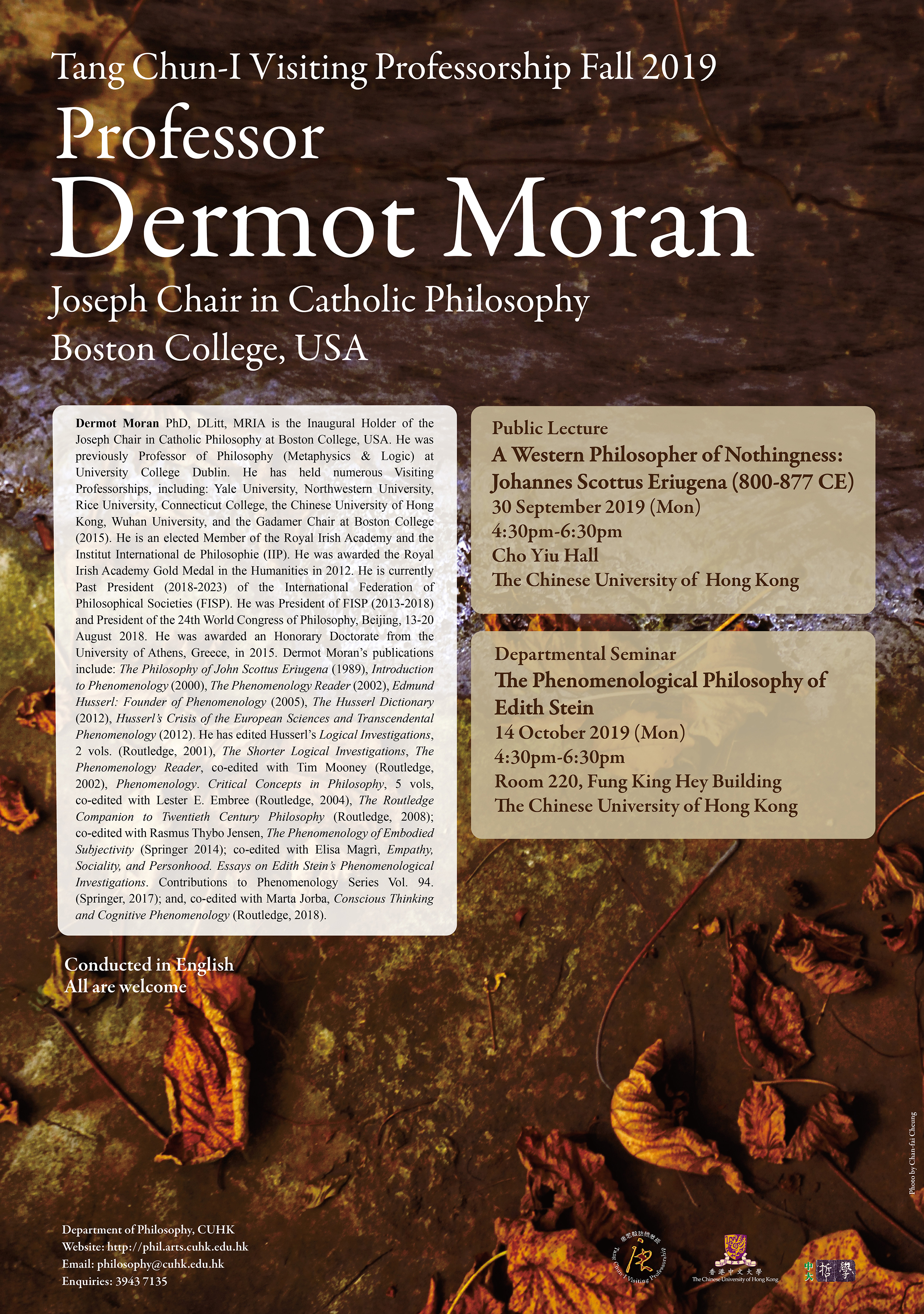 Monday, 30 September 2019
4:30 – 6:30 pm
Cho Yiu Hall, The Chinese University of Hong Kong
Abstract:
The Irish-born, early medieval, Christian Neoplatonist philosopher Johannes Scottus Eriugena (c. 800 – 877 CE) offers the most elaborate and radical discussion of the meaning of 'nothingness' (nihil, non esse) in Western Philosophy. There are many themes that are original with Eriugena, including his well-known four divisions of nature (that has no exact counterpart in other ancient or medieval authorities), his concept of God's own self-creation in his movement from darkness to light, his concept of divine self-ignorance, his conception of the creation of the world as divine self-manifestation, and his account of the purely spiritual nature of human beings. But his most radical claim is the statement in his dialogue, Periphyseon or On the Divisions of Nature, that God can be called 'non-being' (non esse) or 'nothingness' (nihilum). In this talk I shall examine Eriugena's account of the 'five modes' (quinque modi) of being and non-being as outlined in his Periphyseon, especially in Book One, and to which he returns in Book Three, and I shall evaluate the current research concerning its sources and its originality. Eriugena's immediate Latin sources have been suggested as Augustine, Marius Victorinus, and Fredigusius, but he was also deeply influenced by passages in the Greek Christian Fathers, especially Gregory of Nyssa, Dionysius the Areopagite, and Maximus Confessor, particularly on God as "non-being" or nothingness (nihilum). I shall examine the relevant texts and evaluate Eriugena's original contribution in the Periphyseon with some reference to the treatment of nothingness in Buddhist thought.
Readings:
Sheldon-Williams, I.-P. and O'Meara, J.J., (tr.) (1987). Eriugena. Periphyseon (The Division of Nature). Montreal/Paris: Bellarmin.
Moran, Dermot. (1989). The Philosophy of John Scottus Eriugena. A Study of Idealism in the Middle Ages, Cambridge: Cambridge University Press.
Delivered in English
All are welcome
The Phenomenological Philosophy of Edith Stein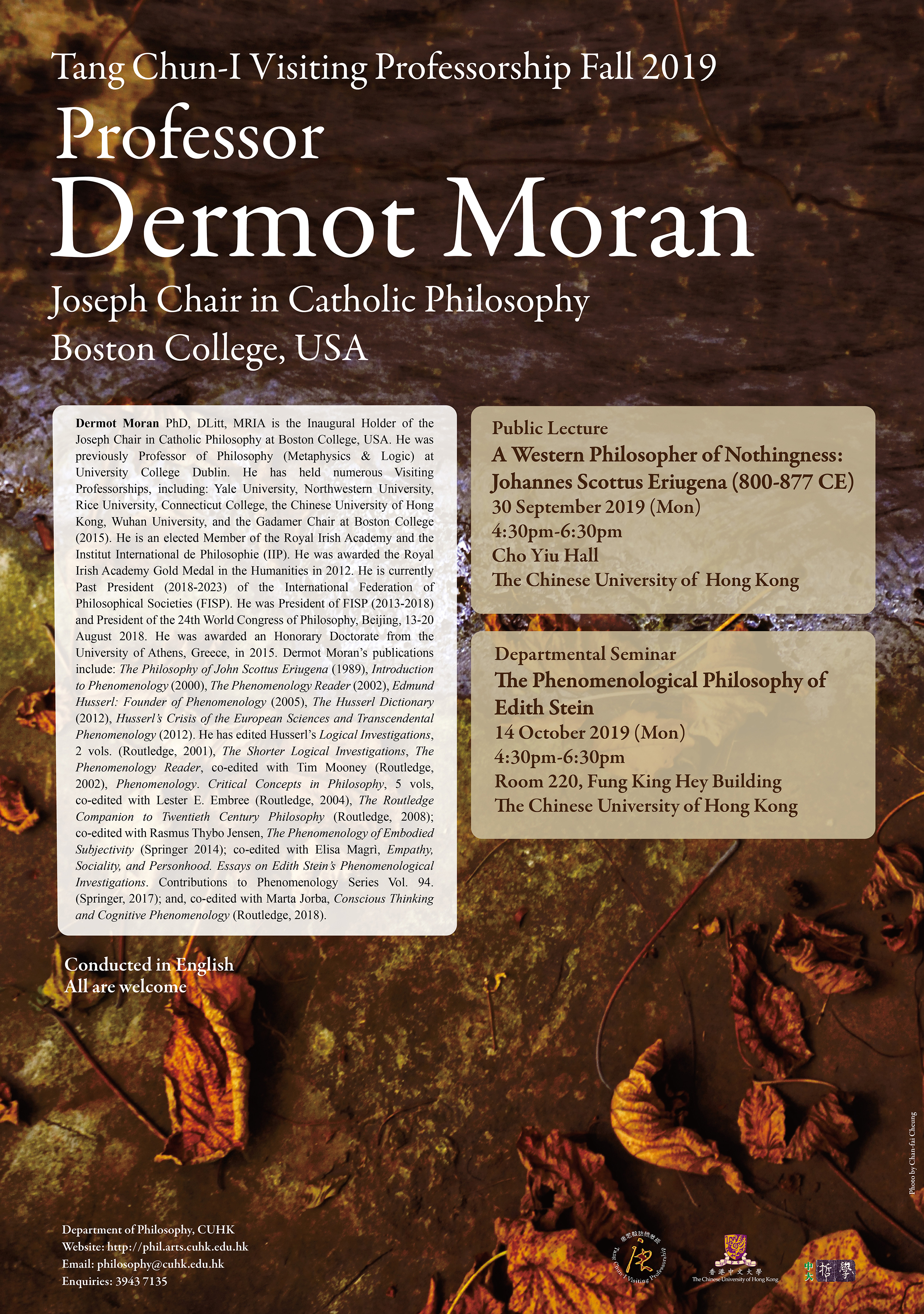 Monday, 14 October 2019
4:30 – 6:30 pm
Room 220, Fung King Hey Building, The Chinese University of Hong Kong
Abstract:
In this lecture I will introduce the phenomenological philosophy of Edith Stein (1891-1942), who was perhaps the most important female student of Edmund Husserl. Besides editing Husserl's own texts (especially Ideas II), she was an original phenomenological thinker in her own right with striking accounts of embodiment, feelings and emotions (influenced by Scheler), empathy, the nature of the person and the meaning of spiritual life. She was a convert to Christianity and eventually became a Carmelite nun. As a Jew, she was martyred by the German National Socialists in  Auschwitz in 1942. During her life, she was an activist who campaigned for women's rights in the workplace and especially for women's higher education. Stein is known philosophically primarily for her doctoral thesis, Zum Problem der Einfühlung /On the Problem of Empathy (1917; Stein Gesamtausgabe vol. 3), and for her contribution as research assistant (1916-1918) to Edmund Husserl, including editing his Ideas II (published posthumously in 1952 as Husserliana II). But she also published elaborate metaphysical texts, notably Potency and Act (1931) and Finite and Eternal Being (1935). Stein was in vigorous philosophical dialogue, as a respected equal, with leading philosophers of her day, especially Husserl, Scheler, Heidegger, Hedwig Conrad Martius, Roman Ingarden, Jacques Maritain, among others. Her work contains original approaches to empathy, embodiment, the phenomenology of emotional life, the unique nature of the person, the structure of social and collective intentionality, the nature of the state. In her later work, she developed an original philosophy of being and essence (including a defense of 'individual essences') that united the resources of phenomenology and Thomist metaphysics.
Readings:
Stein, E. (1989). Zum Problem der Einfühlung. (Halle, 1917; reprinted München: Gerhard Kaffke Verlag, 1980). Trans. by W. Stein, On the Problem of Empathy. 3rd revised edition. Washington, D.C.: ICS Publication.]
Stein, E. (1922). Beiträge zur philosophischen Begründung der Psychologie und der Geisteswissenschaften. ESGA, Bd. 6. Freiburg, Basel, Wien: Herder 2010. [Engl.: Philosophy of Psychology and the Humanities. The Collected Works of Edith Stein, Vol. 7. Transl. by M. C. Baseheart, M. Sawicki, Washington D.C.: ICS Publications]
Stein, E. (1931). Potenz und Akt: Studien zu einer Philosophie des Seins, ESGA, Vol. 10, Wien, Basel, Köln: Herder 2005. [Potency and Act. Studies toward a Philosophy of Being. Edith Stein Collected Works, Vol. 11. Transl. by W. Redmond, Washington D.C.: ICS Publications 2009.]
Delivered in English
All are welcome