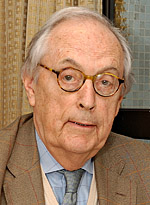 James Griffin
Distinguished Visiting Professor, Rutgers University, USA
White's Professor of Moral Philosophy (1996-2000), Oxford University, UK
Professor James Griffin was born in 1933. He received his BA from Yale University in 1955. He was awarded a Rhodes Scholarship to do graduate study in philosophy at Oxford University and obtained his D.Phil. in philosophy in 1960. He was appointed a Tutorial Lecturer at Christ Church College , Oxford (1960-66) and a Lecturer in Philosophy (1964-90) at Oxford University . In 1966, he became Fellow and Tutor in Philosophy at Keble College (1966-96), and a Reader in Philosophy (1990-96). In 1996, Prof. Griffin was appointed the prestigious White's Professor of Moral Philosophy at Oxford University. He retired from his professorship at Oxford in 2000 and became Distinguished Visiting Professor of Philosophy at Rutgers University and Adjunct Professor at the Centre for Applied Philosophy and Public Ethics in Australia in Canberra since 2002.
Professor Griffin is a leading moral philosopher in the world. He has been invited as a visiting professor in many universities, including the University of Wisconsin (1970, 78), the University of Santiago de Compostela in Spain (1988, 95), the Mexico Autonomous Institute of Technology (ITAM) (1994), the National Autonomous University of Mexico (UNAM) (1994, 2003), University of St Andrews in Scotland (2000) and the Australian National University (2001). Professor Griffin was awarded the Commission of National Education Medal from Poland (1992), the Order of Diego de Losada from Venezuela (1999) and Doctor honoris Causa conferred by the University of Santiago de Compostela (2003).
Professor Griffin has published numerous articles as well as four books, namely, Wittgenstein's Logical Atomism (1964), Well-Being (1986), Value Judgement (1996) and On Human Rights (2008), all published by Clarendon Press in Oxford.
As the thirteenth Tang Chun-I Visiting Professorship, Professor Griffin will offer a public lecture "Does 'ought' imply 'can'?", and a departmental seminar on "Human Dignity as the Ground of Human Rights," as well as a four-week graduate seminar: "What, if anything, can Philosophy Contribute to Normative Ethics?"
Academic Background
I was born in the United States, was an undergraduate at Yale University, and then moved to Oxford for graduate work, where I have lived ever since. When my supervisor at Oxford, Gilbert Ryle, heard that I had been at Yale, he remarked, 'Where they have the zoo theory of teaching philosophy: one of each species'. Ryle was right; at that time undergraduate education at Yale was a matter of looking into cages labelled 'rationalist', 'empiricist', 'logical positivist', etc. It is no way to learn philosophy.
As a graduate student at Oxford I became interested in Wittgenstein's early book, Tractatus Logico-Philosophicus , which then I thought superior to his much more favoured late book, Philosophical Investigations . Out of this work came my first book Wittgenstein's Logical Atomism and my abandoning of my preference for the Tractatus . But my interest in the Tractatus left me with an interest in Frank Ramsey, decision theory, the idea of 'utility', and ultimately moral philosophy. Up to that time I had succumbed to the prejudice, not uncommon among philosophers, that moral philosophy was not serious philosophy (serious philosophy being metaphysics, epistemology, philosophy of language, etc.). Having come into moral philosophy by that route, it is not surprising that my next book was Well-Being: Its Meaning, Measurement, and Moral Importance . But I thought that most moral philosophers had a mistakenly ambitious conception of what the subject was. Most of them thought that moral philosophy was engaged in a grand Cartesian project: a moral philosopher should take to pieces the ethics produced by the local culture, keep what is sound, discard what is not, reassemble the pieces adding some high system. I argued against this wish for system in a book called Value Judgement: Improving Our Ethical Beliefs .
I then became interested in a project of a size within the capacities of moral philosophy: to make clearer what human rights are. I published the results recently (2008) in a book called On Human Rights .
I am now revisiting the question of what philosophy can contribute to normative ethics. I think that moral philosophy has to be much more modest in its aspirations than most of my colleagues think; the problem is to see how much more modest it must be. That will be the subject of my graduate seminar in Hong Kong.
Does 'ough' imply 'can'?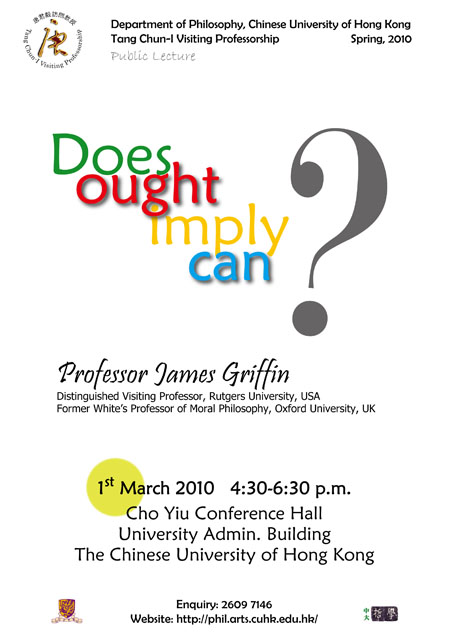 Monday, 1 March 2010
16:30 – 18:30 (Tea reception at 16:00)
Cho Yiu Conference Hall, Administration Building, Central Campus, CUHK
If the claim that "ought" implies "can" is to be accorded the status of a principle, it can only be on a certain interpretation of it, not yet identified. This lecture aims to identify it.
The lecture begins by examining the three words that make up the principle: "ought", "implies", and "can". It then argues that there are certain morally important limits to human motivation, in particular limits to our impartiality. It examines various ways in which our capacity for impartiality can be stretched: for example, increases in our knowledge, training to modify our behavior, and making moral demands more inspiring. It argues that these techniques can indeed stretch the limits of our motivation but not abolish them.
The lecture then tries to establish the conclusion that we should draw from these facts about motivation. It considers three conclusions that have some plausibility: (1) Not "can't" but "won't", (2) Perhaps "can"; perhaps "can't"; but in any case not "ought", and (3) "Difficult", if great enough, turns into "impossible", and that is true of many actual cases. The lecture ends by defending the third conclusion.
If the conclusion of the lecture is right, then the principle "ought" implies "can" is much more central to ethics than is usually thought: it is at the heart of the question of the sort of impartiality on which ethics stands.
What, if anything, can Philosophy Contribute to Normative Ethics?
26 Feb 2010 (Fri)
5 Mar 2010 (Fri)
12 Mar 2010 (Fri)
19 Mar 2010 (Fri)
2:30 – 5:15 p.m.
TCW 204 (Teaching Complex at Western Campus, central campus) *next to Fung King Hey Building
Week 1: What Biology and Psychology Can Tell Us about Ethics
Week 2: Naturalizing Ethics
Week 3: Systematizing Ethics
Week 4: Bernard Williams' Rejection of Morality
Human Rights: Questions of Aim and Approach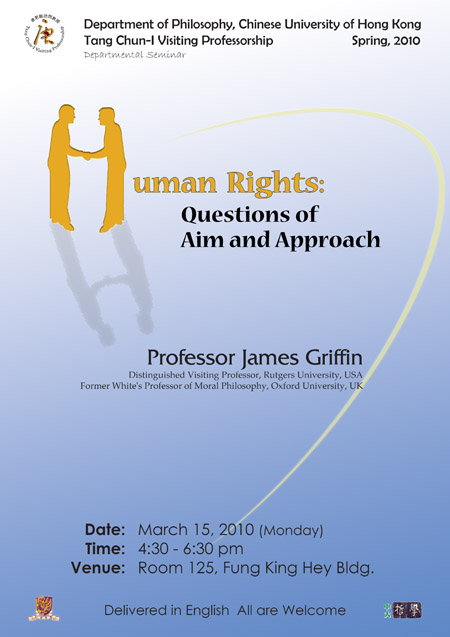 Monday, 15 March 2010
4:30 – 6:30 pm
Room 125, Fung King Hey Building, CUHK Main Campus